The Bucko
Regular price
Sale price
$17.98
Unit price
per
Sale
Sold out
32 oz of The Bucko Soap Scum and Grime Cleaner refill (no sprayer included). Save money and waste if you already have a sprayer. Available in retail price for 1 bottle pack and a wholesale price for 12 bottle case. 
Wipe away soap scum and hard water stains in your bathroom, leaving a beautiful shine. Lightly scented formula with no harsh chemicals. Learn more>
Use on:

Fiberglass, acrylic, vinyl tubs, and shower stalls. Cleans textured tubs with grime ground into the pattern. 

Glass shower doors. Cleans soap scum, white spots, and deposits. You'll think your glass shower door disappeared.

Grout and tile floors and walls. Find out the true color of your grout. 

Other uses. Sinks, chrome fixtures, wheel rims, stainless steel, outdoor furniture, and much more
Features:

Pleasant scent. Light scent of lemon water.

No harsh chemicals. No bleach, strong acids, or harsh chemicals. Non-toxic, septic system safe.

Work saving. Scrub-free cleaning for many uses. Just spray and wipe away soap scum. For tougher jobs, let sit and use some elbow grease with a foam sponge or brush. Use for touch-ups and tough jobs.

Protective shine. for long-lasting "like new" look and easier cleaning next time

Used by professionals. Loved by professional cleaning companies.
How to use:

Just spray, let sit, and wipe off and make your tub, shower, and sinks shine and sparkle like new again. For tougher jobs, allow to sit longer, scrub with a foam sponge or brush, and apply multiple times.
FREE 5-7 Day Shipping. Easy Returns. Check out our shipping and return policy.
View full details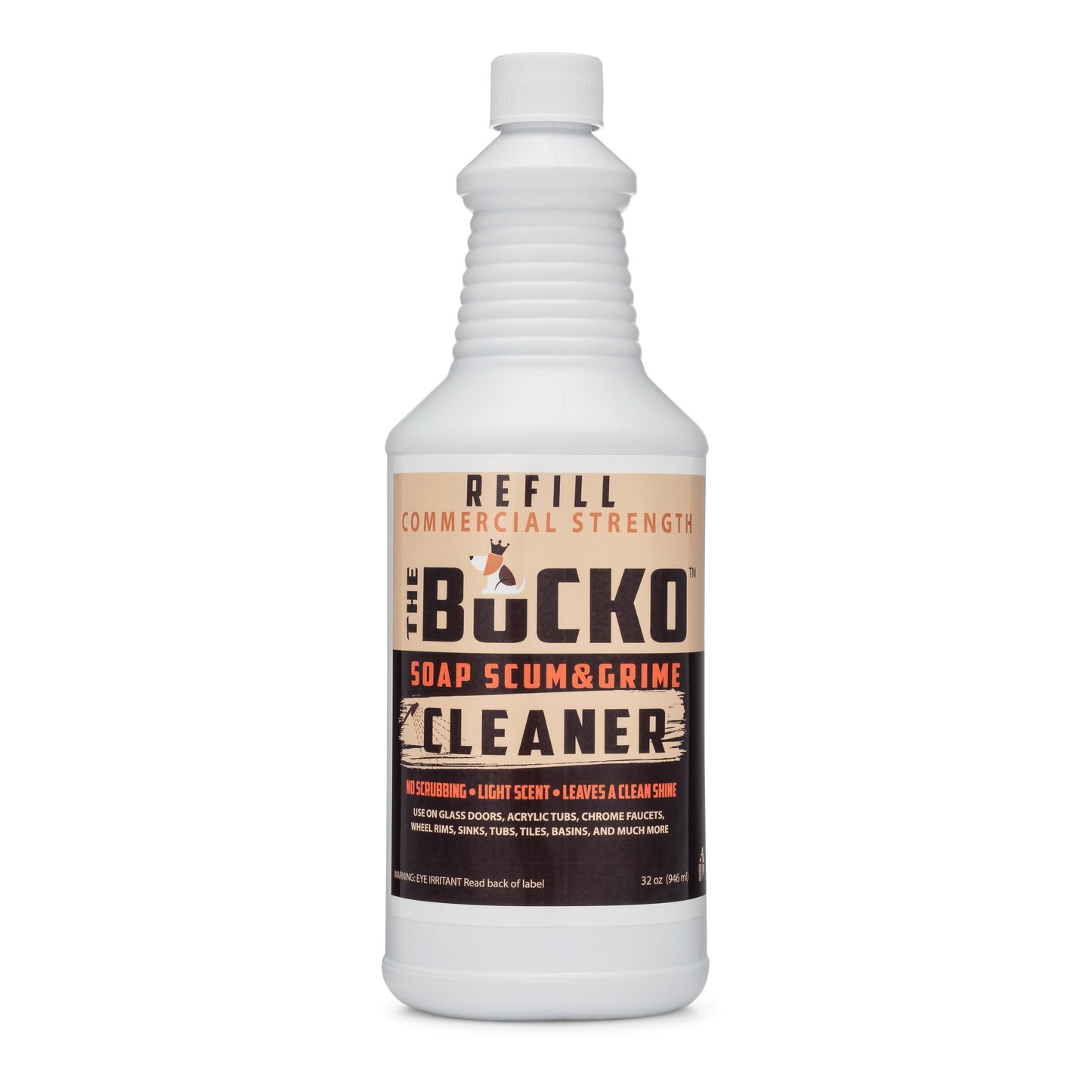 Great Cleaner!
I love this product enough to purchase a 2nd time. Delivery was a problem, due to damage on its way to destination. It is a good stain remover.
Awesome cleaner!!!
I have been using this for years and it is the best product I have ever used for acrylic surfaces!!
Not so impressed
While this product did remove a little soap scum, it did not remove enough of it to be impressed enough to use (or buy) it again. Directions were followed exactly (even let it sit for a bit, and tried it a second time too). After reading good reviews and spent the ($$) money, suffice it to say I won't be purchasing again. The $1 store offers better products for substantially cheaper prices that do a better job. For the record, my shower door wasn't even that bad off.
Cleaner works very good, better than most